Where to go diving or snorkelling in Antibes and Juan les Pins?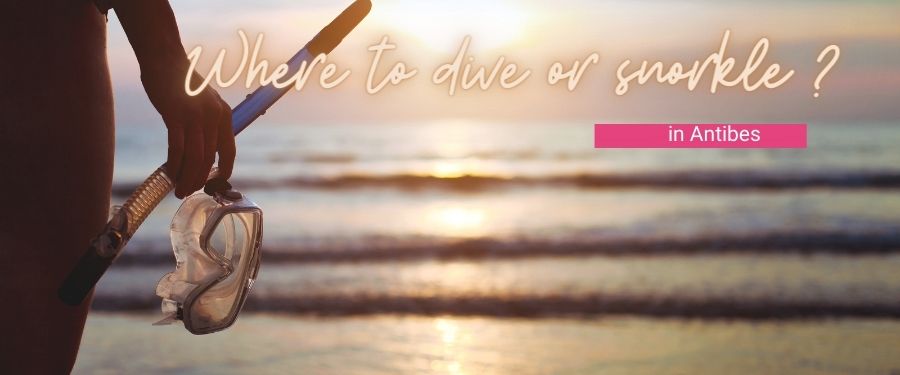 Diving and snorkelling are among the most popular water sports activities on the Côte d'Azur this summer, and can be enjoyed in the turquoise waters of the Mediterranean, just a few metres from the shore and at depths of up to several metres. Whether you're a beginner or an expert, get out your flippers, mask and snorkel and enjoy the breathtaking underwater scenery of Antibes and Juan les Pins.
What are divers' favorite spots for admiring underwater flora and fauna? We reveal the best coves for admiring the hidden treasures of the Mediterranean.
Destination under the sea!
Antibes and Juan les Pins are not only famous for their sandy beaches and vibrant nightlife, but also for their spectacular diving and snorkelling sites. Whether you're a beginner or an expert diver, there's a beautiful underwater world to discover. From the Baie des Milliardaires to the batterie du Graillon and the Lauve, each site offers a unique and fascinating experience.
Baie des Milliardaires: underwater luxury
Nestling between the coves of Anse de l'Argent Faux and Pointe Bacon, Baie des Milliardaires is a must-see dive site in Antibes. The water is turquoise and you can discover a multitude of reef fish, groupers, red coral and octopus. The site is suitable for all levels, from beginners to the most experienced divers. From La Jabotte, it takes just a few minutes to reach this unmissable spot on Cap d'Antibes.
You can choose to sunbathe on the beach or spend the day discovering the underwater world and its secrets in one of the Côte d'Azur's most popular coves.
Le Graillon: Marine sanctuary
Located at Cap d'Antibes, the Graillon Battery is a marine protected area.
This underwater trail, located in the Cap d'Antibes sea and coast area, allows you to explore the seabed directly from the beach. Its shallow depth and clear waters make it an unbeatable diving spot and one of Antibes' best-kept secrets. That is, until now!
A veritable snorkelling paradise, this Natura 2000 site is particularly suitable for beginners and allows you to discover numerous Mediterranean species in their natural habitat.
On this heavenly site, you can swim above the posidonia and encounter Saint-Pierre, dorado, mostella and even lobster! (Of course, fishing is prohibited in this area).
La Lauve: the dive site to put in your summer to-do list
Antibes' diving experts have a secret, and it's called La Lauve.
Considered one of the most accessible dive sites for young divers, this underwater amphitheater teems with color and a variety of species, including octopus, nudibranchs and schools of sea bass and saupe, which seem to levitate in the translucent waters.
Snorkelling, beach & shellfish
Last but not least, if you fancy a day combining beach and underwater discoveries in crystal-clear waters, you're sure to appreciate the postcard-perfect little port of l'Olivette.
Located close to Plage des Ondes, this authentic fisherman's port offers the ideal setting to lay back your towel and splash around in the water with the little fish.
A few recommendations before diving :
If you're new to scuba diving or snorkelling, don't forget to check your equipment and follow the safety instructions.
Also remember to be a responsible diver by protecting the environment: look with your eyes and avoid touching or disturbing fauna and flora.
Do you need a professional to introduce you to the incomparable joys of diving or snorkelling? Don't hesitate to ask us for advice during your stay at La Jabotte.
Happy bubbling to all and see you soon underwater!

La Jabotte is a charming hotel with 9 rooms classified 2 stars, in Antibes. Ideally located by the sea and at the foot of the Alps, between Nice and Cannes. In addition to enjoying its patio and pleasant sunny garden for your moments of relaxation, you stay in a strategic location of the French Riviera, close to a multitude of activities and points of interest of the French Riviera.
Categories: blog
« Living like a local in Antibes: our tips for an authentic experience
Juan les Pins: Affordable private beaches and great summer deals »