Juan les Pins: Affordable private beaches and great summer deals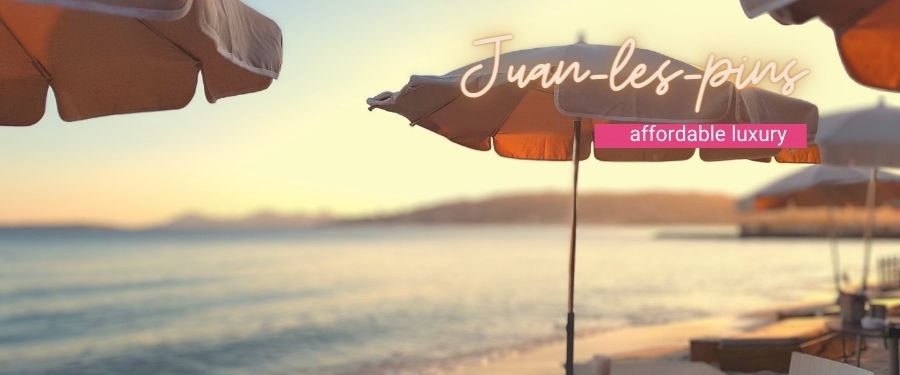 An emblematic summer destination on the Côte d'Azur, Juan les Pins, just a few minutes from La Jabotte, awakens at the first rays of sunshine to welcome holidaymakers. Known for its long sandy beaches, lively nightlife and pine forest, which is the focal point for families and locals alike, the seaside resort has a lot to offer.
What are the best ways to enjoy summer without breaking the bank in Juan Les Pins? Here are our favorite spots:
Richelieu beach: an affordable escape
Just a stone's throw from the vibrant heart of Juan les Pins, Plage Richelieu offers a real taste of paradise. This public beach, managed by the municipality, offers sunbeds and umbrellas at affordable prices, so you can enjoy the turquoise waters and breathtaking views of Cap d'Antibes.
Simply reserve your mattress (on site) to take advantage of this summer BON PLAN every day until September 15.
Lutetia beach: affordable luxury
Lutetia beach, also managed by the municipality, is a true haven of peace. Here, you can dive into the crystal-clear water or relax on the warm sand, all for an ultra-affordable price that makes Lutetia one of the least expensive private beaches on the Côte d'Azur.
Slightly larger than its neighbor, Plage Richelieu, this stretch of fine sand can be recognized by its white deckchairs and parasols, and nestles alongside Juan les Pins' most popular private beaches on the Boulevard du Littoral.
Prefer wild coves to comfortable mattresses? Discover our selection of Cap d'Antibes creeks here.
Jazz à Juan: the unmissable summer event
Summer in Juan les Pins also means starlit nights lulled by the sound of jazz at the famous, sold-out "Jazz à Juan" festival. In the Pinède Gould, under the majestic pines, the air vibrates to the unison of saxophones, pianos and sweet voices, whose notes are an ode to summer and evaporate into the surrounding warm air.
Since 1960, this not-to-be-missed rendezvous for music lovers has attracted a host of international artists to share the stage with a passionate and festive crowd. Louis Armstrong, George Benson, Keith Jarret, Al Jarreau and Miles Davis. The list of jazz legends to have graced the pine forest of Juan les Pins is impressive.
This year's festival runs from July 10 to 21. Discover the program here.
What to do in Juan les Pins in summer?
A stroll in the Parc de la Pinède:
This is the green heart of Juan-les-Pins. After an afternoon of sunbathing, there's nothing like a stroll in this park under the hundred-year-old pines. It's also here, on its famous stage, that the "Jazz à Juan" festival takes place. A stroll through the Pinède is like a trip back in time, where jazz legends still resonate between the trees. It's also a great place to play pétanque, or watch the children, delighted by the merry-go-rounds set up in the shade of the pines.
Treat yourself to a vanilla-strawberry or the flavour of your choice
After a day on the beach, there's nothing like strolling through the narrow streets of Juan Les Pins with an ice cream cone in hand. You'll find one on every street corner, just like the addresses dedicated to shopping. Ice cream parlors are one of Juan's specialties, and there's something for everyone, young and old alike.
Vibrate to the rhythm of the night
Juan les Pins is also known for its rich nightlife. Around the carrefour de la Nouvelle Orléans, on the avenue Georges Gallice, or in the adjacent streets, as soon as the sun goes down, the music fills the seaside resort, where it's a pleasure to sit down at one of the bar terraces and sip a cocktail.
Between its affordable beaches and the vibrant atmosphere of its jazz festival, Juan les Pins is an ideal summer destination that perfectly combines luxury and accessibility. Whether you're looking to lounge on fine sand, listen to jazz under the stars or discover unique spots, Juan les Pins is an invitation to savor every moment of summer.
To make the most of this Juan getaway, don't hesitate to ask at reception for a tuktuk ride to discover the unmissable spots from Cap d'Antibes to Juan les Pins.

Categories: blog
« Where to go diving or snorkelling in Antibes and Juan les Pins?