5 outdoor activities to do in Antibes in Spring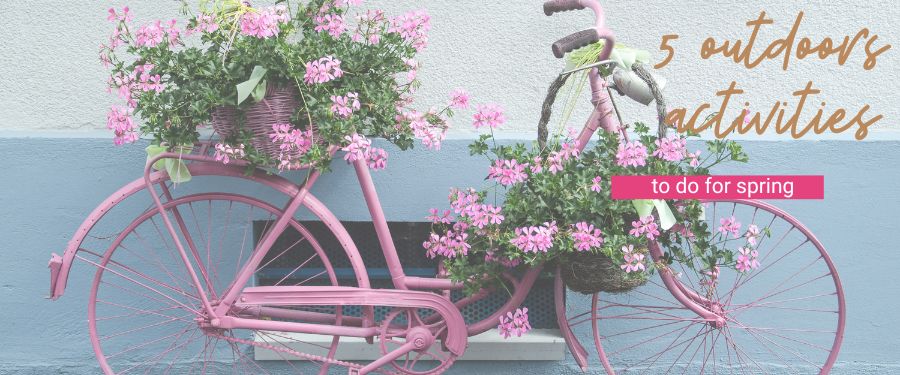 Yes, we're in a hotel room in Antibes, especially at the Jabotte. But it's spring and it's time to put your nose outside to enjoy the first rays of sunshine that warm up the French Riviera. Looking to organize your spring weekend?
Here are 5 ideas for outdoor activities to escape and discover the surroundings of Antibes.
Hiking: The Cap d'Antibes tour
The coastal path is one of the favorite walks for locals and vacationers alike. This hike offers spectacular views of the Mediterranean Sea and takes you to discover historical sites such as the Villa Eilenroc. The trail is about 4.5 km long and takes about 1.5 hours to complete. It's a great way to stretch your legs while getting some sea air.
Jabotte Tip: Bring your bathing suit, there are a few small coves along the way where you can take a little break for a swim!
Bike rides in the city and bike paths
Antibes has many bicycle paths and quiet roads ideal for bike rides. There are urban circuits to the Port Vauban and the old town, tracks along the beaches and also the Mediterranean by Bike route which connects Antibes to Villeneuve-Loubet over 6 km.
At La Jabotte, it is easy to enjoy this outdoor activity thanks to our rental bikes.
Jabotte Bonus: You can also discover the surroundings of Antibes by bike, following the bike path that runs along the beach from Juan-les-Pins to Cannes. An excellent opportunity to discover this so charming part of the coastline by bike!
Picnic with a view
To discover the local culinary specialties, there's nothing like a picnic to enjoy it!
Go and enjoy your pan Bagnat in one of the spots dedicated to this purpose in Antibes.
Our favorites?
The gardens of the Villa Thuret for a bucolic picnic among the trees and exotic plants.
The park of the Pinède for a shady picnic where picnic tables are installed.
La Garoupe for a breathtaking view of the Mediterranean.
Jabotte Tip: For a more intimate experience, why not picnic on a secluded beach? The beach of La Garoupe is ideal for this and a little further on, on the path of tire-poil, there again, you can have a pan bagnat/rosé combo to share with friends or family.
The best places to kayak and paddle in Antibes
Why not explore the Antibes coastline from the water? Kayaking and paddling are popular activities in Antibes, offering spectacular views of the old town and surrounding mountains.
And guess where you can do it to discover the crystal clear waters of the Mediterranean?
On the beach of La Salis, two flip-flops away from your favorite hotel, aka La Jabotte!
If you are a beginner, don't worry, at La Jabotte we give you the 06 of the best guides who will help you to navigate and will allow you to explore the region with your flippers 😊
Jabotte tip: For a truly unique experience, try kayaking or paddling at sunset. The warm colors and golden reflections on the water are just magical.
Of course, we have all the equipment for you to do one of these unmissable outdoor activities 😊
Discovering the Lerins Islands
If you're looking for a longer getaway, why not venture to the Lerins Islands? Located just across from Antibes(well, not far), these two islands, Sainte-Marguerite and Saint-Honorat, offer a true haven of peace, with hiking trails, white sandy beaches and wildlife.
You can take a boat from Golfe Juan and spend the day exploring the islands, discovering their history and enjoying the natural beauty of this unique place.
Jabotte Tip: The island of Saint-Honorat is famous for its vineyards and wine cellars. Don't forget to taste the local wine during your visit!
Jabotte Service : At La Jabotte, we offer a chauffeur service to take you wherever you want on the French Riviera. A quick and easy way to reach the pier to visit the islands 😊
And you, any ideas for outdoor activities you would like to try in Antibes?

La Jabotte is a charming hotel with 9 rooms classified 2 stars, in Antibes. Ideally located by the sea and at the foot of the Alps, between Nice and Cannes. In addition to enjoying its patio and pleasant sunny garden for your moments of relaxation, you stay in a strategic location of the French Riviera, close to a multitude of activities and points of interest of the French Riviera.
Categories: blog
« Reopening: We have 2 things to celebrate with you!
Living like a local in Antibes: our tips for an authentic experience »