Restaurants in Antibes: Our best Places to try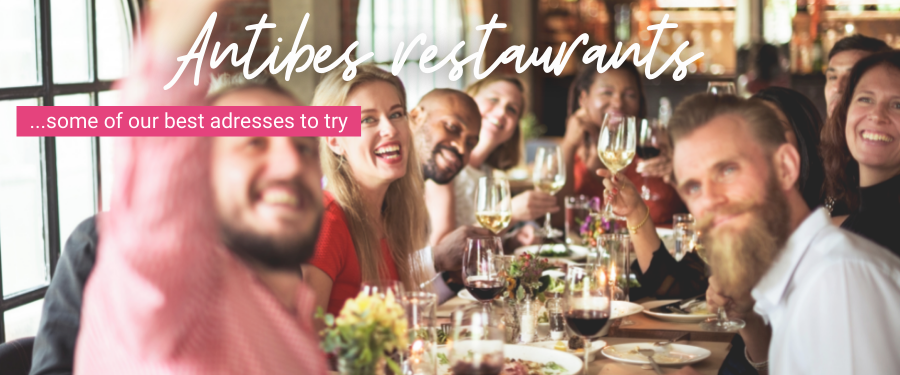 Special edition ! What would a stay in Antibes be without tasting the local specialties and discovering the jewels of Azurean gastronomy? Without doubt a little bland and that is why today we are offering you some of the best addresses for lunch or dinner in Antibes.
"Le Figuier St Esprit"
It is on the side of the ramparts that the starred chef Christian Morrisset distills a cuisine in the rules of the art with Mediterranean flavors. A setting of typical stones, reminiscent of the alleys of old Antibes and a shaded terrace, topped with its fig tree which embellishes the atmosphere on summer evenings.
One of the most famous restaurant in Antibes thanks to its friendly chef and one of the most emblematic of the region.
14, rue Saint-Esprit – Antibes
"Le P'tit Cageot"
In the heart of the old Antibes, the "P'tit Cageot" oscillates between tradition and contemporary cuisine. Created by Arnaud and Roxanne Lacombe, this charming restaurant arouses the taste buds of connoisseurs. The authentic decoration, ultra-fresh products including some vegetables from the family market gardening, and recipes bursting with creativity, will convince all gourmets!5, rue du Dr Rostan – Antibes « L'Arazur »This little secret gourmet address run by the couple Lucas Marini and Jeanne Martin also has something to compete with the most gourmet restaurants in the region. Lucas in the kitchen, "maître restaurateur", halo his dishes with delicate and sunny flavors. A chic bistro with unique cuisine, now a real safe bet.
8, rue des Palmiers – Antibes
"Le 44"
A few strides from the Mediterranean, near La Jabotte, the gastronomic address "44" is renowned for its chef, Jérôme Clavel. In a refined and harmonious atmposphere, this "Maître Restauranteur" sublimates noble ingredients as well as local products through contemporary recipes.44, bd Albert 1er "La Cour Des Thés"More than a restaurant, "La Cour Des Thés"is a place apart, almost hidden in old Antibes, where you come as well for lunch as for a gourmet break between 2 shopping sessions in the shady alleys of Antibes. Installed at the end of a courtyard, out of sight, "La Cour Des Thés"is the little gem created by Valérie, who, in addition to serving gourmet and generous cuisine, has all the art of welcoming in a friendly atmosphere.
14, avenue du 24 aout
"Le Safranier"
It is one of the emblematic places of Antibes, the commune of Safranier. Created by the inhabitants, this city within the city, shelters, in its place, a restaurant like a snapshot of the dolce vita Antiboise. You can have lunch there on its large shaded terrace with friends or family, in an almost bucolic universe a stone's throw from the ramparts.1, place du Safranier  "Chez Jules"Do you want to taste real Niçoise cuisine? Direction "Chez Jules", the most "Niçois" of Antibes. In the street Casemates, you can't miss this restaurant with Provencal decoration on either side of the lane. As a decoration, vegetables sleep in crates, as if to better whet your appetite. Definitely the address to try to devour "stuffed niçois", "pissaladières", "bagna cauda", ​​"Provencal stew" and other flavors of the sun!
8, rue des Casemates
"Chez Mamo"
Surely the most famous pizzeria in the world so much at Mamo has resonated internationally thanks to the movie stars, who made it their secret canteen during the Cannes Film Festival. In addition to the generous pizzas and exceptional service, we come "Chez Mamo", for this colorful character, who appears here and there on the walls, in pictures, with all the celebrities of American cinema and more!
2, rue des Cordiers  
Little hungry
"Socca Bar"
It's impossible to spend a stay on the French Riviera without biting into a part of Socca, this pancake made from chickpea flour. In Antibes, you have to rush to "Socca Bar" to discover all the flavors of this Niçoise specialty which is normally enjoyed as an apetizer. Here, we made a big deal out of it and the socca is embellished with many ingredients that inevitably smell of the South!
1 James Close Street 
"Kaake"
Brand new in Antibes, very close to La Jabotte, "Kaaké" delivers an original interpretation of Lebanese street food. Inside a funny rounded bread, we find all the flavors of Lebanon and the Mediterranean in a vegetable version.
59, bd Maréchal Foch  
 Bonus: a nightcap at "the Absinthe Bar"
After all these culinary discoveries, will you have a drink to digest? In Antibes, an unusual bar is located a few steps from the Provençal market, the Absinthe Bar. After descending a few steps, you arrive in a vaulted cellar, a piano bar with deliciously retro decoration. Here, tasting absinthe is an art that requires some explanation before discovering its flavors … A must-try to learn all about the taste and history of the green fairy, this alcohol too long prohibited in France.
25, cours Massena

---
La Jabotte est un hôtel de charme composée de 9 chambres classées 2 étoiles, à Antibes. Idéalement situé au bord de la mer et aux pieds des Alpes, entre Nice et Cannes. En plus de profiter de son patio et agréable jardin ensoleillé pour vos moments de détente, vous séjournez à un endroit stratégique de la Côte d'Azur, à proximité d'une multitude d'activités et points d'intérêt de la French Riviera.
Categories: blog
Comments
« From Garoupe to Gravette beach: our favorites beaches in Antibes
Visit Antibes by walk: the must-sees of the old town »