6 reasons NOT to spend your next trip in France at Antibes | Alpes Maritimes
As a couple, with friends or family, vacations in the South of France and more precisely the Alpes-Maritimes is total horror ! We advise you against it! Between incredible landscapes, atypical villages by the sea, exceptional climate and beaches, you'll spend the worst vacation of your life ! There are many reasons not to spend your vacations in Antibes but today we decided to give you the 6 main reasons.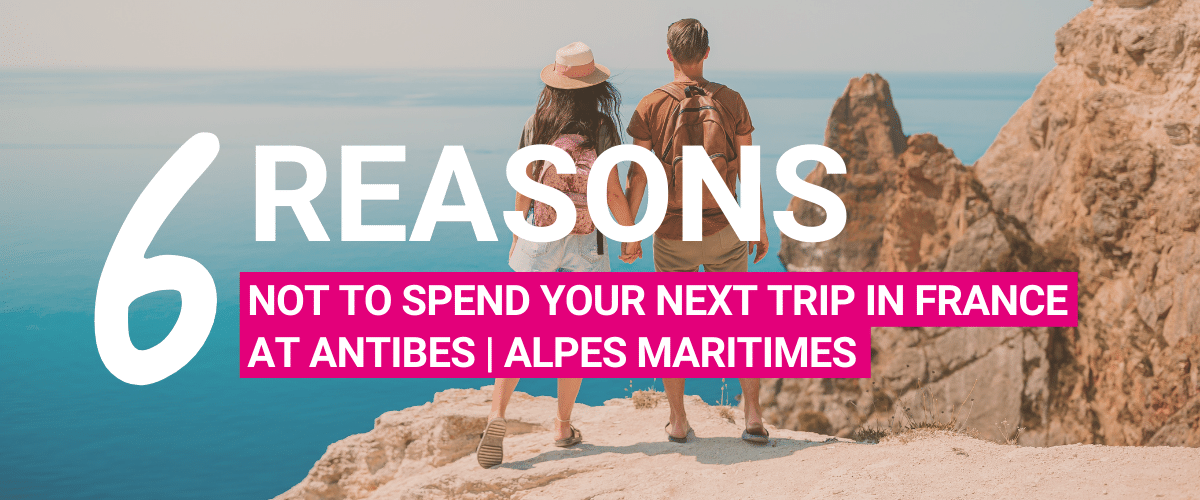 Reason n°1 : Apart from tanning, there is nothing else to do
Prejudice: Sandy beaches as far as the eye can see, these are the only assets of the Alpes-Maritimes! And to be honest, apart from sunbathing, there is really nothing else to do. Boredom guaranteed!
Reality: Yes, our beaches and our weather are our main assets but the Alpes-Maritimes offer a multitude of activities and offer among the most beautiful places in the South of France. Whether you are here alone, as a couple, with friends or family, you will always find an excursion or activity that suit your tastes. With your family, you won't fail to take the large and see the cetaceans in its natural habitat or visit the Picasso Museum between two swims. As a couple, walk along the Tirepoile trail or fill up on local flavors in the multitude of markets that our territory offers. With friends, you can enjoy the pleasures that the Mediterranean have to offer. On or underwater, Antibes is full of activities for your greatest pleasure: scuba diving, boat trips, wakeboarding, paddle… What else ?
Reason n°2 : Cities all look alike
Prejudice: Cannes, Nice or Antibes that all that the Alpes-Maritimes have to offer.
Reality: You couldn't be more wrong! The Alpes-Maritimes offer an unsuspected range of landscapes and have among the most beautiful villages in France. During your next stay, don't miss the opportunity to spend a few hours in Breil-sur-Roya, Coaraze, Peillon, Sainte-Agnès, Gourdon, Eze or Mandieu-La-Napoule.
Reason n°3 : Beaches don't make you want to go to the beach
Prejudice: As we told you earlier, apart from sunbathing, there is not much to do in Antibes and the Alpes-Maritimes. The worst in all of this is that the beaches are not even welcoming!
Reality: Maybe it's because you haven't seen the most beautiful places that the Alpes Maritimes offer you yet. We will be very happy to reveal you our secret swimming spots. In the meantime, take a look at these few pictures.
Reason n°4: Local gastronomy is the worst
Prejudice: From a taste bud point of view, the Alpes-Maritimes have nothing to offer.
Reality: Once again, you couldn't be more wrong! In addition to offering you various natural landscapes and historical monuments, the Alpes-Maritimes offers you various local flavors that we will be pleased to make you discover during your next stay in Antibes. We have much more to offer you than the salad niçoise, the pan bagnat or the pissaladière, trust us !
Reason n°5 : The sunsets are completely overrated
Reality: Honestly, you couldn't offend us more! Let's us answer you with those few pictures.
Reason n°6 : Hotels are out of price
Prejudice: It's a nightmare in order to find good value accommodation in Antibes and the Alpes-Maritimes.
Reality: Located in Antibes, our charming hotel welcomes you only a few meters from the sea in one of its 9 rooms. Relaxing, you will like our warm rooms, opening  for some of them on a terrace and patio. Starting at 56€. To take advantage of our best offers, book your next stay in Antibes today on our website. We can also make your reservation by e-mail or by phone.
See you soon in Antibes,
Nathalie & Pierre
---
Benefit from exclusive advantages by booking directly on our official website: www.jabotte.com.
Comments
The best kept secret of Antibes|By the sea French Riviera Hotel »