7 good reasons to Relax at La Jabotte in 2022!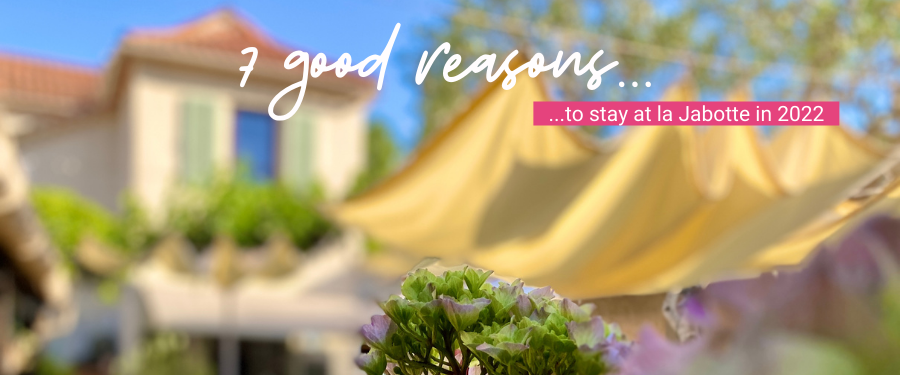 With the transition to the New Year, many of you want to adopt good habits. At La Jabotte, we thought of you and we prepared easy resolutions for you, especially if you come to visit us in Antibes in 2022!
1 – Stay Zen
Let's face it, 2021 has been a stressful and agonizing year to say the least. One of the promises that you surely want to keep is to be able to keep calm no matter what happen. We breathe in, we breathe out, and to see life on the bright side, we relax at La Jabotte by spending a night in one of our 7 rooms which overlook the patio or in the bedroom of the villa while enjoying the the sweetness of life on the Riviera and the little attentions we have in store for you at La Jabotte.
2– Put on a … Mediterranean diet!
Forget the monotony of a classic diet, switch to the Mediterranean diet whose health benefits are recognized. At La Jabotte, we apply it to the letter: nap, appetizer and restaurant! In fact, to taste the local specialties around the hotel, we have listed a host of gourmet addresses that should not be missed here.
3 – Practise sports
Have the end of the year celebrations convinced you that you need to get back to sport at all costs? At the hotel, we've got you covered! Paddle and kayak are at your disposal, all you have to do is cross the street, and the beach is waiting for you to indulge in your favorite water activities. To be practiced throughout your stay for visible results from the first stroke of the paddle!
4 – Traveling
This is one of the things that surely missed you in 2021, traveling. To satisfy your desires of escape, nothing like an excursion aboard our very exotic Tuk Tuk. Aboard our motor tricycle, you will follow the coast to discover Cap d'Antibes and Juan les Pins, where on the way you will be blown away by unforgettable landscapes.
5 – Discover
Did you make the good resolution to stop hanging out all day on social media? This is great because to discover the cultural, artistic and architectural richness of Antibes, you will need time. Between the Vauban port and the billionaires' quay, the shady alleys, the Picasso museum, a host of unmissable items await you! To find out about them, see our article on visiting Antibes on foot.
6 – Make an appointment with you, and only YOU  
Another good resolution to keep in 2022: take care of yourself. This is the reason why at La Jabotte we decided to pamper you! After a restful night's sleep in one of our cozy nests, put on your bathrobe and make your way to the sauna for an hour of relaxation for body and soul.
7 – stop procrastinating
Finally, this is one of the resolutions that surely tops your list: to stop procrastinating what we could do today. So if you liked our good ideas for a smooth start to 2022, whether you are dreaming of a romantic weekend or a vacation in Antibes, don't waste another minute and book your stay at La Jabotte here!
Happy New Year to all of you
Categories: blog
« Skiing holidays in the Alpes-Maritimes: Get off the beaten track!